The Paradigm Experience
Train like a pro athlete — whatever your goals
We provide the very highest levels of service and success in both overall fitness and sports-specific training. Our programs integrate professional expertise, advanced methodologies, and personal attention to help our clients achieve their goals and improve their quality of life. But physical strength, flexibility, balance, and endurance are just the beginning. We also help all our clients learn aspects of a professional athlete's mindset ­— focus, consistency, initiative, and accountability — that can serve them for a lifetime.
Developing both the physical skills and intangible tools for lifelong fitness requires a careful balance of motivation and support. Paradigm Sport delivers an experience that is personal, encouraging, and above all else respectful. Our goal is to create a program, a skill set, and an attitude to help you live a healthier, happier life.
Our fitness and training programs include:
Personal Fitness Training

Small Group Training

Fitness Bootcamp

Sports Performance

Baseball Instruction

Baseball Camps

Baseball Catching Clinic
Joey is a lifelong athlete whose career embodies the spirit of Paradigm Sport. A Central Coast native, his talent and passion for baseball took him to the professional level where he worked with some of the country's best trainers. As an ACSM-certified trainer he now shares his experience and enthusiasm with world-class athletes and fitness clients alike.

Joey has built a business with the goal of bringing the most advanced techniques and the highest levels of individualized athlete training to the Central Coast community. The local environment has shaped his interests and defined sport-specific training in two disciplines: competitive surfing, for which Santa Cruz is world-renowned; and baseball, which launched his career.
Kevin Eichhorn ­– Baseball Instructor
Pitching and hitting instruction is a natural extension of Kevin's abilities and love of the game of baseball; standout CCS and state team performances (SCCAL player of the year 2007/08) at Aptos High School; 3rd round pick in First Year Player Draft by the Diamondbacks out of high school; 2014 All Star Team player, Lakeland (FSL); and a 7-year pitching career in the MiLB.

He enjoys working with youth baseball players; helping them develop skills that will assist them in their lives, both on and off the field. In addition to year-round instruction sessions, Kevin and Joey collaborate to offer one of Central California's finest youth and high school baseball development programs and camps, emphasizing small group and individualized training for best-in-class instruction and athlete development.

Kevin's other passions are music and the local outdoor playground; surf and mountains. He is a founding member of Soulwise, a Rock/Reggae/Funk band, with whom he tours. And for the foreseeable future, Kevin plans on continuing to work with youths engaged in baseball and developing his musical career.
Tanner Batten ­– Performance Specialist
Tanner is a Missouri State University graduate, BS in Exercise Science, Nutrition minor; former Intern, Cressey Sports Performance, NSCA Certified Strength and Conditioning Specialist, and ACSM Certified Personal Trainer.

Tanner just relocated to Santa Cruz, CA from Springfield, MO to check-off his bucket list item, "live in CA", honing his craft, building fitness industry acumen, bringing his personal training skills and nutrition counseling to Central Coast athletes and fitness clients alike. He is an active community service leader and world traveler. Yes, he is definitely younger than many of us, and he is well-prepared to share his experience and the latest in Exercise Science with us.


Ashoka McCormick — Performance Specialist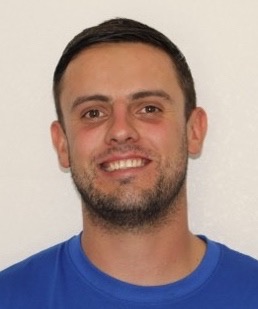 Ashoka is dedicated to helping people make a positive difference in their lives through exercise. He is committed to helping every client achieve his or her optimal fitness and athletic goals.

He is a Certified Personal Trainer (NASM), and a Functional Movement Screen Specialist (FMS). An advocate and practitioner of continuing education, he attends seminars, participates in internship opportunities, and regularly reads the latest research in the field of Sports Performance Training. Ashoka is a martial arts enthusiast with competitive experience at World Cup and Open International Brazilian Jiu-Jitsu tournaments. He is a Strength and Conditioning Coach for the San Jose State University Judo Team.


Briana (Bri) Barnes — Performance Specialist

Bri brings her enthusiasm for sports, especially running and soccer, to athlete training. She is a Certified Professional Trainer (NASM), currently pursuing her BA in Nutrition Science at San Jose State University.




Tricia Morgenson - Performance Specialist, Front Desk


Tricia is passionate about helping others feel their best with proper diet and exercise. Her focus is to create a positive environment where she can empower others to be their best. Tricia's own training with Joey inspired her to pursue a career in health and fitness. She is a Certified Personal Trainer (NASM), studying for a Women's Fitness Specialist Certificate to create programs for pre- and post- natal women. Tricia is a former Junior Lifeguard and varsity high school swimmer.