Briana Barnes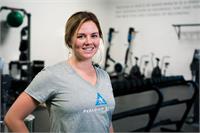 Bri is an NASM certified personal trainer who has been athletic her whole life. She played soccer for the Division 1 Santa Cruz Breakers for ten years. Her career ended when she was injured and had her right ankle reconstructed. She found true love for all forms of exercise after her ankle surgery as she was forced to find different and new ways to stay fit and challenge her body.
Bri's philosophy on training is to keep things challenging, new, and fun and she hopes to make all of her clients as excited about fitness as she is.
Bri believes that healthy living is one of the most important things we can do for ourselves. She prides herself on not only woking hard in and out of the gym, but also eating a clean and healthy diet. She in currently going to school to get her degree in nutrition so that she can also help her clients with their nutrition needs and goals.
Briana Barnes is currently not instructing any classes.