Kiara Burkett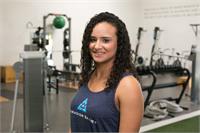 Kiara Burkett instructs the following:
This fun high-energy class is Paradigm Sport's take on the traditional "boot camp". Mixing cardiovascular, interval and circuit training, this class will increase your cardio endurance, coordination, balance and agility, all while burning a ton of calories!




If you are tired of exercising and want to train towards a grander goal, then our Personal Training Program is for you. This program provides a full body training session with an emphasis on strength and direct work with a coach centered on your goals. In this group of no more than 4 athletes, we will focus daily on Soft Tissue Work, Mobility Work, Dynamic Warm-up, Functional Strength Training, and Conditioning. Our priority is to create a strong, healthy, and balanced athlete. Whether your goal is weight loss, injury rehabilitation, or performance, we believe this program allows our athletes to train with a purpose.